THE DAVEDOG ORIGINAL CHRISTMAS CARD CHRONOLOGY
Here it is. The OFFICIALLY APPROVED ON-LINE VERSION of the Davedog Original Christmas Card Chronology.
It has been officially approved by officials who are officially authorized and approved for the purpose of issuing official approvals of documentation that appears to be of an official nature! The information presented herein should not be confused or misconstrued to be the unofficially approved version, and should not be misinterpreted as the officially unapproved version!
This information has been compiled, arranged and specifically prepared for the easily amused. If you are not easily amused, find someone who is and ask them if they'll teach you how! They'll be amused.
The entire contents of this website are protected by copyright and cannot be used elsewhere for any purpose unless you check with me first! DAGNAB IT!

CHRISTMAS CARD NUMBER 1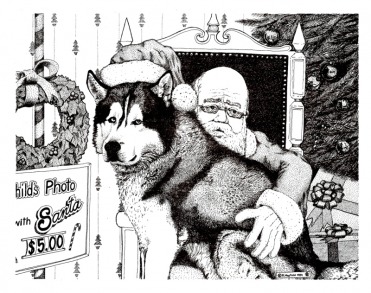 Davedog Christmas Card Number 1 - 1984 - MCMLXXXIV

The first Davedog Christmas Card featured Dave sitting on Santa's lap having his photo taken at a child's 'Photo- With-Santa-Clause booth. Some people say that the Santa looks like me. I think that they are nuts.
---
CHRISTMAS CARD NUMBER 2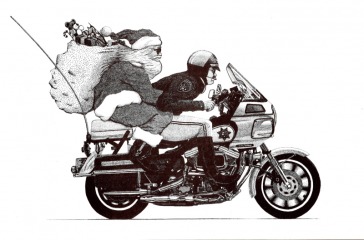 Special Request - 1985 - MCMLXXXV

The second card in chronological order is not a Davedog card. It was a request from long-time friend Brad Coull who asked if I could make a card for him. Brad, at the time, was a CHP motorcycle officer, so I created a drawing featuring Brad on his motorcycle giving Santa a ride. The drawing was started in the summer and I needed a photo to work from. CHP motorcycle officers keep their bikes at home so brad had me meet him at his house to take the photo. This occurred in the summer and the air temperature was above 100 degrees so when Brad arrived he gave me about 30 seconds to take my reference pictures before scooting into the garage out of the heat. I had to lean Brad forward , give him a jacket and add Santa. Because of making this card I didn't produce a Davedog card for 1985.
---
CHRISTMAS CARD NUMBER 3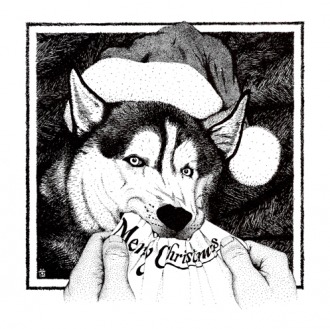 Davedog Christmas Card Number 2- 1986 - MCMLXXXVI

'Tug-O-War' is the title of this drawing. Dave, in his Santa cap, is trying to pull the Christmas greeting away from some unknown person's hands. Some people say those hands look like my hands. I think that they are nuts. Not the hands, the people. And, yes, those are my hands. I based this on an almost in-focus picture of Dave that I took while he was pulling on a towel.
---
CHRISTMAS CARD NUMBER 4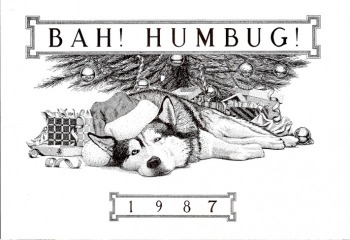 Davedog Christmas Card Number 3 - 1987 - MCMLXXXVII 'BAH! HUMBUG!'

Dave is worn out after tearing through all the presents. I used a photo that I took of Dave as he was sleeping on the kitchen floor in front of the refrigerator. I layed down on the floor in front of him, focused the camera and whispered his name. His eyes opened with the expression you see in the drawing. There were a limited number of sweatshirts produced with this image in color. Should I make some more? Let me know.
---
CHRISTMAS CARD NUMBER 5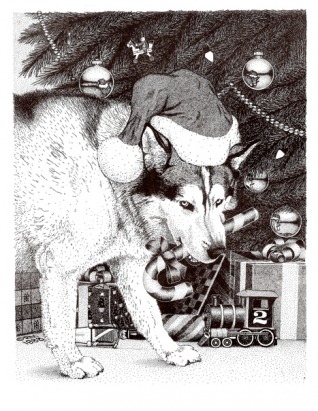 Davedog Christmas Card Number 4 - 1988 - MCMLXXXVIII

'Go Ahead, Take My Cane' Dave is standing in front of the Christmas tree, challenging the viewer to try and take his candy cane away from him. The photo I used for reference was taken just after tossing Dave a Liv-A-Snaps dog treat on which he was chewing.
---
CHRISTMAS CARD NUMBER 6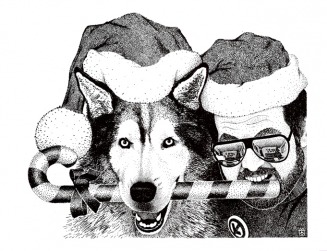 Davedog Christmas Card Number 5 - 1989 - MCMLXXXIX

'NO L' This card shows Dave with a huge candy cane in his mouth and I am beside him trying to take a bite of it. The 'NO-L' comes from the badge in the lower right of the drawing. There is also a 'mistake' in this drawing which is almost impossible to pick out so it probably shouldn't even be mentioned. The photo used for reference for this card was the last picture taken of Dave.
---
CHRISTMAS CARD NUMBER 7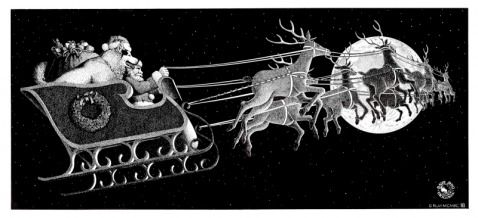 Davedog Christmas Card Number 6 - 1990 - MCMXC

This card features Dave riding with Santa in his sleigh on Christmas eve as they climb into the night sky across the face of a full moon. For the first time I drew a card completely out of my head with no specific photo for reference. It appears rather small here due to limitations of this site. The original drawing is 24" wide.
---
CHRISTMAS CARD NUMBER 8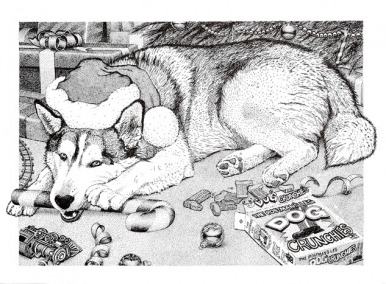 Davedog Christmas Card Number 7 - 1991 - MCMXCI

'The Postman's Leg' - Dave is seen chewing on a giant candy cane, which he seems to prefer over the Postman's Leg Dog Crunchies sitting spilled open beside him. On the back of this card the following message appeared - 'Did you find the hidden message and if so were you able to decode it?' There actually was no hidden message. But this set a precedent for future cards as people were trying find it.
---
CHRISTMAS CARD NUMBER 9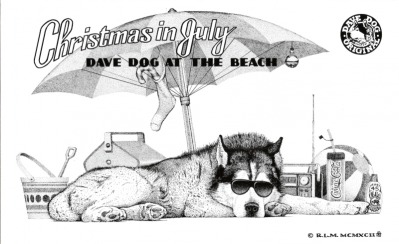 Dvedog Christmas Card Number 8.- 1992 - MCMXCII

DAVEDOG AT THE BEACH - This card was late!
I didn't find the time to finish a card, and have it ready to send out at Chritstmas, so this one ended up going out in July. It features Dave laying under an umbrella at the beach with his radio, cooler, beach ball, a pail and shovel, a sports bottle of Canine Cola and some FPF-45 Flea Block.
---
CHRISTMAS CARD NUMBER 10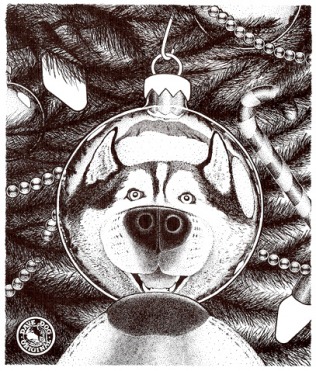 Davedog Christmas Card number 9 - 1993 - MCMXCIII

CHRISTMAS CHOMP - Dave's reflection is seen in a round Christmas ornament as viewed from his perspective, and when the card is opend the viewer sees the results.
---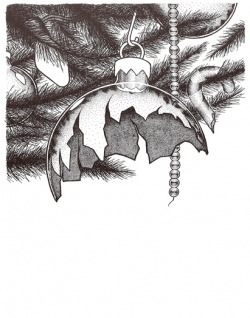 The inside illustration for the 1993 card showing what remains of the ornament.
---
CHRISTMAS CARD NUMBER 11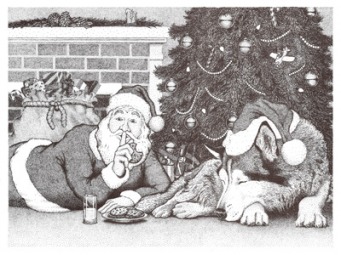 Davedog Christmas Card Number 10 - 1994 - MCMXCIV

SHHHH! - Santa Claus is trying to eat the cookies and milk left for him without waking Dave, who's fallen asleep waiting to see Santa when he arrives to leave the gifts under the tree.
---
CHRISTMAS CARD NUMBER 12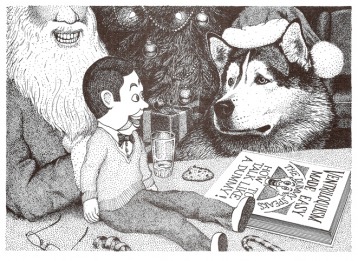 Davedog Christmas Card Number 11 - 1995 - MCMXCV

The Dummy Speaks The idea for this drawing came from a record I have on which Danny O'Day and Farfel the Dog teach kids the art of Ventriloquism, or as they teach it 'the thine art oth thentriliquisn' . This is not one of my favorite drawings. I don't like the way Santa's mouth turned out, but he is trying to speak through clenched teeth in the ventriloquil voice.
---
CHRISTMAS CARD NUMBER 13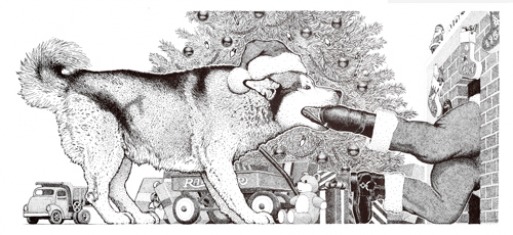 Davedog Christmas Card Number 12 - 1996 - MCMXCVI

PULLING SANTA'S LEG. Dave is seen pulling Santa's leg, trying to keep him from going back up the chimney.

This drawing includes a Smith-Miller toy truck that I received for Christmas as a kid.
I was saving it as they are highly collectable and sell for nearly $500.00 now, but I think the rotten little kid down the street stole it. The stockings pictured are the ones made by my aunt, that we hung up as kids.
---
CHRISTMAS CARD NUMBER 14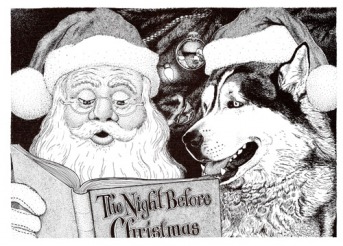 Davedog Christmas Card Number 13 - 1997 - MCMXCVII

'TWAS. Here's another one that I am not thrilled with. Santa's face again. It just didn't turn out quite right. And I'll tell you what the problem is...I let things go until November (NOVEMBER!) and then it's panic time to try and get it drawn and finished and to the printer so that I can get it back in time to mail out.
---
CHRISTMAS CARD NUMBER 15

Davedog Christmas Card Number 14 - 1998 - MCMXCVIII

DASHING THROUGH THE SNOW - Dave is pulling Santa on their journey across the snow to wherever the heck they are going.



I don't like the lack of impact in this drawing. It looks unfinished and needs something more. Trees in the background or something like that. And Santa came out looking like Kenny Rodgers! That's not good!
---
CHRISTMAS CARD NUMBER 16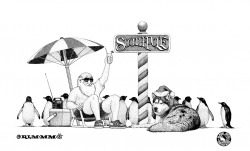 Davedog Card Number 15 - 1999 - MCMXCIX

HAVING A WONDERFUL TIME. WISH YOU WERE HERE. Here's another example of a panic situation. I had been working on the Silent Night drawing intending it to be used for the 1999 card and realized that there was major dottage involved of the stipple type, which would result in massive straining of the eyes and crampage of the muscular skeletal system in my left hand. So I bailed on it and let it become the 2000 card. I went into high-level emergency meetings with the creative staff residing inside my cranial cavity to develop a new strategy for the completion of the 1999 card, and this was the result. Santa and Dave on vacation at the South Ploe. I didn't have to draw a background because at the south pole everything is white.This saved a lot of time. There was no hidden message on this card.
---
CHRISTMAS CARD NUMBER 17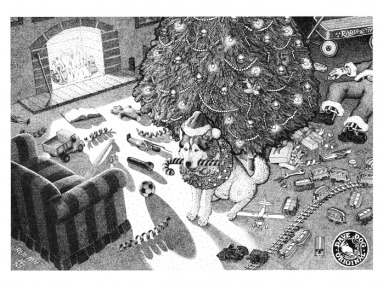 Davedog Card Number 16 - 2000 - MM

SILENT NIGHT - Dave has rummaged through all the presents to find his candy cane. Santa is relaxing in the background, having succumbed to the effects of the Radio-Active wagon. Don't worry, he'll survive. This one, as mentioned above was intended to be the 1999 card. Number 15. As such their are significant things hidden in this drawing that relate to this being the 15th card created, even though it appeared as the 16th card. It's all so confusing!
---
CHRISTMAS CARD NUMBER 18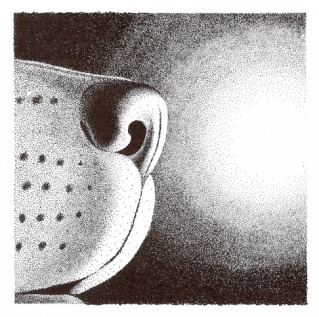 Davedog Card Number 17 - 2001 - MMI

YOU WOULD EVEN SAY IT GLOWS. Here's another hand-cramper. This is the front of the card. The inside illustration appears below. Dave's nose, shown with a mysterious glow in front...oooooh! These drawings, with value changes from light to dark take forever to complete. They are time sponges, soaking it up, hour after hour.
---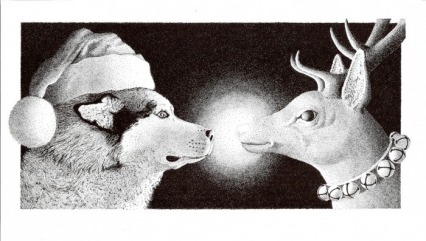 The inside illustration revealed Rudolph and his brightly glowing nose. Most of these cards use a picture of Dave to form the basis of the drawing and the rest is from my imagination. This one is all from my head - no photo of Dave from this angle to draw from. This one contains hidden goodies within the drawing - too small to see here.
---
CHRISTMAS CARD NUMBER 19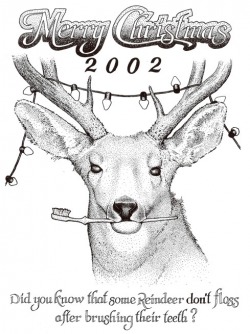 2002 - A SPECIAL REQUEST by my dentist.

In 2002 my dentist asked if I would draw a Christmas card that he could use to send out to friends , colleagues and patients. After some ideas were discussed this is what we came up with. It featured a reindeer adorned with Christmas lights and a toothbrush in his mouth. It stated that reindeer don't floss after brushing their teeth.
---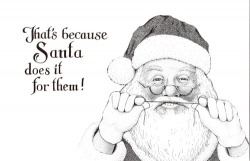 The inside of the card featured Santa holding dental floss and said that the reason reindeer don't floss their teeth was because Santa did it for them.
---
CHRISTMAS CARD NUMBER 20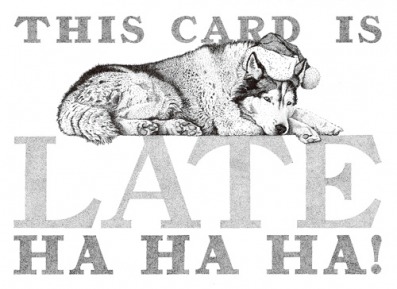 DAVEDOG CHRISTMAS CARD NUMBER 18 - MMIII ??? I'LL HAVE TO GO CHECK the Roman Numerals !

This card, along with the next card, were sent out together to make up for not sending out a card the previous year. I spent all my time working on the card for my dentist the previous year and I didn't get a Davedog card completed, so I sent out 2 to make up for it.
---
CHRISTMAS CARD NUMBER 21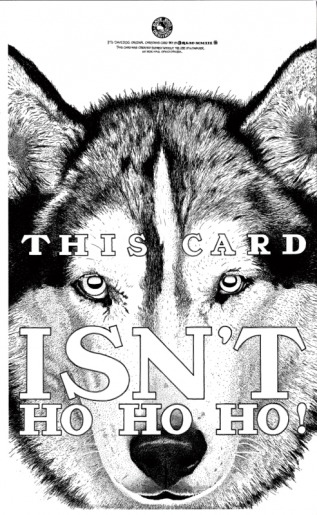 DAVEDOG CHRISTMAS CARD NUMBER 19
---
CHRISTMAS CARD NUMBER 22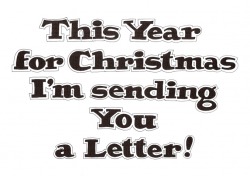 DAVEDOG CHRISTMAS CARD NUMBER 20 - MMIV

My version of the dreaded Christmas Letter.
---

CHRISTMAS CARD NUMBER 23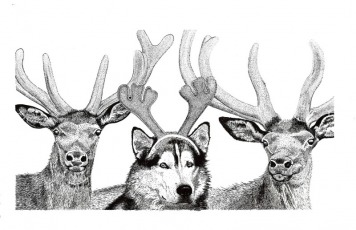 DAVEDOG CHRISTMAS CARD NUMBER 21

Dave is trying to 'blend in' and be accepted as one of the reindeer gang.
---
CHRISTMAS CARD NUMBER 24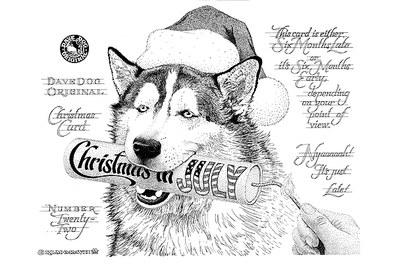 DAVEDOG CHRISTMAS CARD NUMBER 22

Another one of my 'late' versions. This one was sent out in July.
---
CHRISTMAS CARD NUMBER 25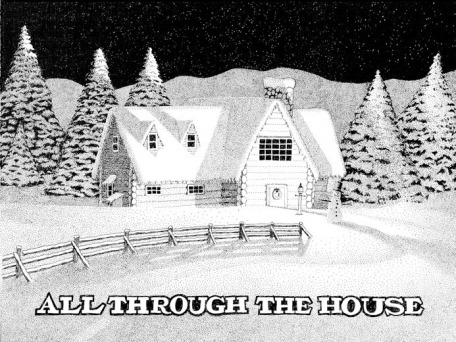 DAVEDOG CHRISTMAS CARD NUMBER 23 - 2008 - MMVIII

One of the more extensive illustrations created for a Davedog Christmas Card. This one shows a house in the snow on Christmas eve. This card was actually intended to be the 2007 card but the drawing was taking so long to finish that it was decided to let it slip a year.
Inside Dave is asleep under the Christmas Tree next to the fireplace.
---